A major factor when enjoying chocolate is experiencing pleasure.
Pleasure in knowing that there's 'good' in the chocolate that we're eating. We don't just mean in its taste and texture. We're also talking about its impact. Because knowing that what we eat is doing good, makes us feel good too.
As a chocolate manufacturer, it's only natural that you want to use ingredients that are high in quality. It's what consumers expect… But what about ingredients that are high in 'responsibility'? Interest in these is increasing, as more and more consumers look for products that are sustainable on every level – from having a low impact on the environment to leaving a huge positive impact on people's lives. On communities. On the future.
And it's only natural that you, as a manufacturer, want to satisfy that desire too. That you want to be part of the bigger picture of making better things happen. Of helping to create a better future. Of guaranteeing your consumers that, with every bite of your chocolate they take, they're also creating a ripple in the flow of positivity.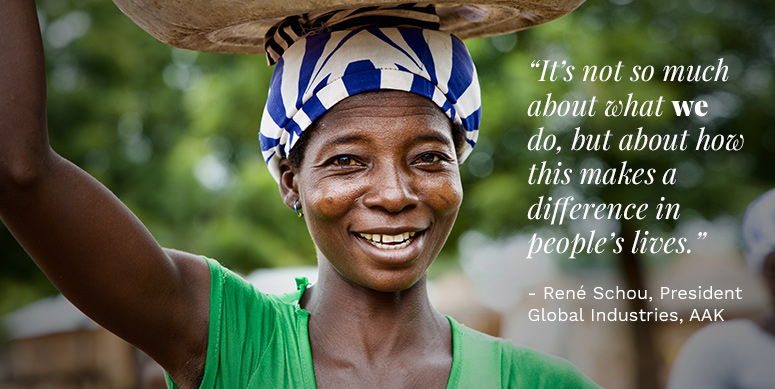 How? By joining us in our Kolo Nafaso direct sourcing program.
Because by working together, we can link our individual efforts to create a path that passes positivity on at each and every step.
You see: With our Kolo Nafaso shea, not only are you guaranteed an ingredient that is high-quality, you're also ensured it has a positive impact. At AAK, we're committed to creating a positive future just as much as we're committed to meeting your needs. We want a world where conserving ecosystems, respecting resources, empowering women, supporting communities, and sustainable supply chains go hand-in-hand with reliability, transparency and supply security.
And in fulfilling our commitment, we never lose focus of our drive: that business done well at its source ripples out to successful results at consumer level too. And vice versa. Because passing positivity on works both ways.