Get on the right track—in a real job. The AAK Trainee Program is an advanced dual track acceleration program designed to give you the best possible start to your career. You will be part of the future growth of AAK and play an active role in the business from day one.
You want to be a food industry professional and are ready to stand up to the challenge of your first full-time position when the program starts. We offer trainee positions along two career tracks: the commercial and the operations track.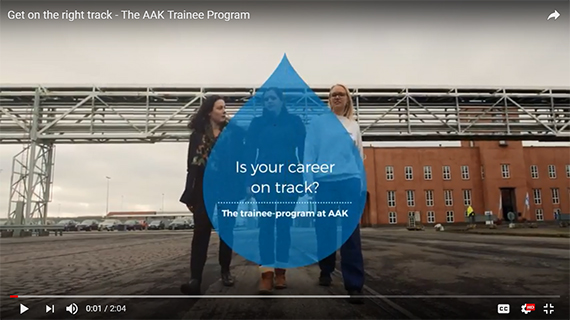 The commercial track
The commercial track focuses on creating value for our customers working with them on co-developing solutions to meet their needs. Curiosity and the will to improve things mixed with disciplined creativity are the driving forces behind customer interaction within AAK—both in Sales and Customer Innovation.
The operations track
The operations track focuses on the continuous improvement of our production facilities ensuring that we are able to meet our customers' increasing requirements through strong utilization of new technologies and processes. Challenging status quo based on strong technical knowledge is key in continuously improving our production facilities.
Accelerate your learning and development
From day one you will be able to impact the business kick-starting your transition towards becoming an industry professional. Through the program you will gain a solid knowledge of and hands-on experience within the vegetable oil industry.
During the twelve-month program you will experience a mix of on-the-job learning, individual development activities and formal training. You will join your trainee colleagues for the Operational Module, the Commercial Module, two Trainee Sessions as well as for the Trainee Project. The one-month international assignment will expand your horizon and ensure you an international outlook.
Be humble, become international
We're looking for trainees who are not afraid of taking an active role in creating the future and who have the potential and aspiration to take a leading position in doing so. You are naturally confident in what you do and balance ambitions, humbleness, social skills, personal drive, and gravitas.
Recruitment for the AAK Trainee Program
At AAK, we recruit our trainees a little differently as candidates apply for specific job roles that fit their education and experience.
Successful candidates start in their permanent roles from day 1 and spend the first 12 months both on the job and in the trainee program. The first 12 months is focused on getting to know our business and accelerating development. This powerful combination enables trainees to build a fast track to in-role development and a long-term career with us.
Interested in signing up for job alerts?
Application and recruitment process
Step 1: Application and screening
Online application and selection process starts at our Available Jobs page where all roles will be advertised. Applications will only be accepted via the online portal.
Step 2: Initial selection
All applications are reviewed against specific criteria for each role. If there is alignment, candidates will be contacted to progress their application.
Step 3: Assessment
Candidates will be asked to complete multiple online assessments, including psychometric questionnaires and cognitive ability testing.
Step 4: Personal interview
Candidates will be invited for interview by the hiring manager and an HR business partner. Following this, there will also be personal interviews with representatives from AAK's Senior Management. The number of interviews varies depending on the department and role. Candidates can expect 2–3 interviews.
Interviews are face-to-face meetings but depending on logistics and timing, interviews may, in rare circumstances, be conducted via video.
Step 5: Offer and acceptance
Successful candidates will be offered the permanent position and start after summer. The role typically starts within the first two weeks of September.
Step 6: Commencement and induction
Newly hired trainees are invited to the induction which is usually delivered in Malmö, Sweden.
What you will need to apply
Minimum graduation with a master's degree with top results
Meet the criteria of the role
Eligible to work in the country where the job is located
Fluent in written and spoken English
Strong analytical and problem-solving skills
A high level of personal drive and learning ability
A passion about creating customer value
A global and collaborative mindset
Recruitment for the next program
At AAK, we constantly strive to deliver a world class trainee program. Throughout 2020-2021, we are focusing on further evolving and shaping our trainee program to continue to align with our corporate strategy.
We value your interest, and we welcome you back to this page for coming updates and information on how to apply. More details will be posted as soon as they become available.