The fast-growing market for chocolate and nut spreads offers manufacturers a unique opportunity to expand their business.
Remember when the kids were crazy about chocolate hazelnut spread? They still are, of course, but these days there's a difference – they're not the only ones reaching for the jar. Our own latest consumer survey at AAK shows that 60% of consumers, irrespective of their ages, have been eating sweet spreads, primarily chocolate spreads. Because, today, consumers of all ages are getting a taste for sweet spreads, and they are looking for exciting new flavors, great textures and, very often, a healthy touch.
The chocolate and nut spreads trend is visible globally and Euromonitor forecasts an average year-on-year growth rate of 3.7% up to 2026. According to Mintel, chocolate and nut spreads represent close to 50% of new product launches in the European spreads' category – and 70% in the Middle East & Africa, which is the sweetest region of all. When it comes to the total value of spreads sales, Euromonitor reports that France, Germany, Italy, US and Turkey are the top five countries.
Nutrition in a nutshell
So, what are the main drivers of this cross-generational consumer movement? One of the most significant is the growing consumer awareness of nuts as a rich source of nutrients – protein, heart-healthy fats, vitamins, minerals and fiber. On top of that comes their delicious crunch and creamy taste. Peanut, almond and hazelnut are currently the leading nut spread flavors. According to our consumer survey 2018 at AAK, 39% of global consumers eat spreads with a high content in nuts.
For manufacturers, successful inclusion of nuts in spread recipes can be a tricky challenge. Nut oil has a notorious tendency to separate, forming an unattractive oily surface layer in the jar. Fortunately, with the right recipe and process, this problem is easily solved.
Product development opportunities also lie in the trend towards spreads that are low in sugar or dairy free or which have a clean label. Our own consumer survey 2018 at AAK has revealed that 30% of chocolate consumers read the ingredient list before they buy.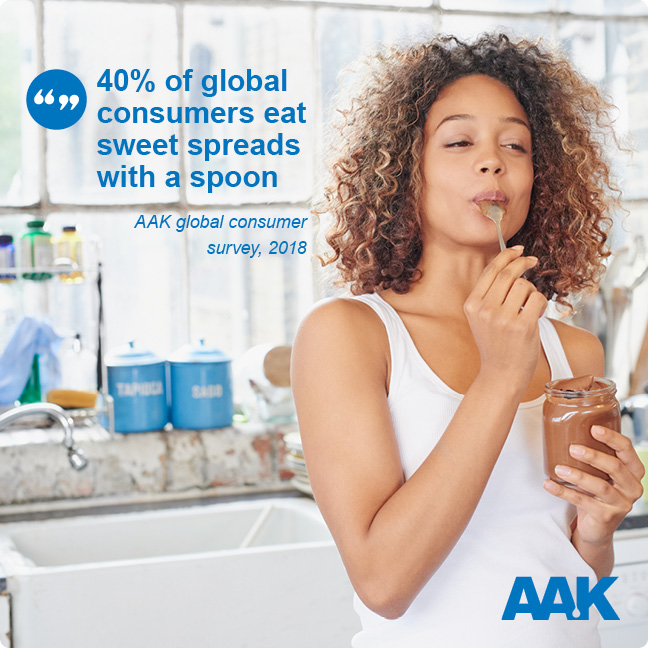 The critical choice for success
That brings us to a critical ingredient in spread recipes – the vegetable oils and fats. Representing on average 28% of the total recipe, the right choice of oils and fats is essential to achieving the desired taste, texture and stability during shelf life. In products with a nutritional claim or clean label, the choice requires even more consideration.
This is where spread manufacturers can turn to AAK to co-develop from idea to launch the best solutions for the product. AAK's broad range of specialty fats for spreads includes many different textures as well as non-trans, non-hydrogenated and low saturated fat options. Combined with the knowledge and expertise of the AAK customer innovation team, manufacturers can count on the range to meet sensory, shelf-life and nutritional goals.
Consumers of all ages can therefore enjoy soft and creamy spreads straight from the fridge, with no oil separation or loss of texture in warm climates – and the optimal healthy profile. And you can enjoy a prospering spread sales.