Rapeseed and sunflower are key soft oils for food production that bring important health benefits, such as lower levels of saturated fatty acids to end products. As there are many parallels in the rapeseed and sunflower supply chains, we are grouping them together in our responsible sourcing approach.
Our milestones and roadmap to 2025
Our milestones and roadmap to 2025 shows our progress in the journey towards sustainable rapeseed and sunflower, as well as our ambitions still ahead.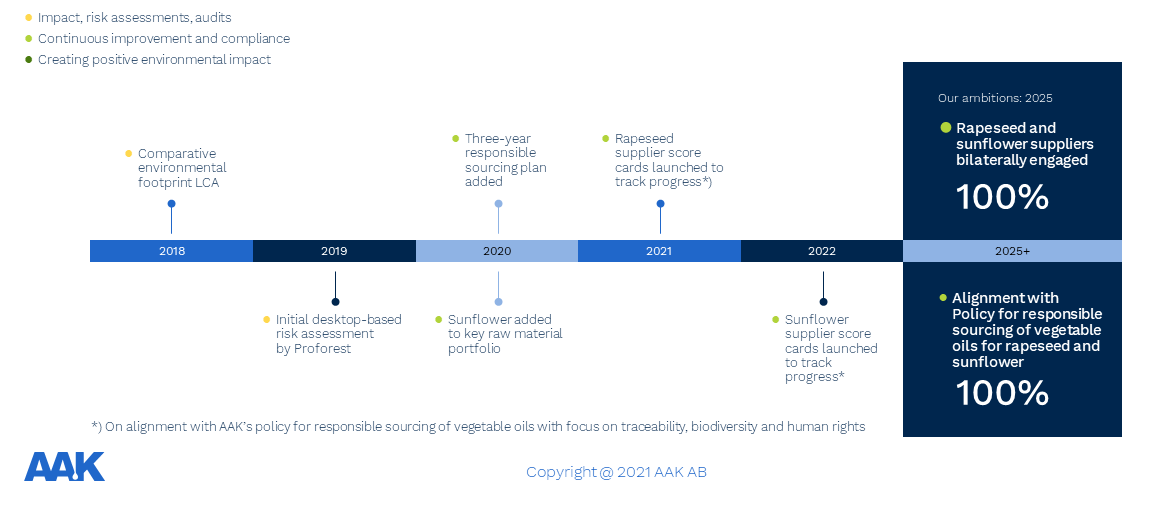 Sustainability KPIs for rapeseed and sunflower
Deeply understanding our supply base
The production of rapeseed and sunflower has a relatively low risk for sustainability issues such as deforestation. However, there are some other key risks, namely:
Traceability in a commodity-based supply chain
Transparency on field-level practices
Biodiversity
At most points of origin, sustainability concerns related to rapeseed and sunflower production are mitigated to some extent by good agricultural practices. They are supported by strong legal frameworks and environmental incentive schemes. However, transparency and reliable data is currently still a challenge.
At AAK, we use Life Cycle Assessments (LCAs) to analyze the impact of rapeseed supply chains globally, as well as in comparison to other oil crops. These studies have shown that the environmental impacts of, for example rapeseed, are strongly correlated with the amount and type of fertilizer used as well as to the yield of crop per hectare.
Engaging with suppliers and farmers
In 2021, we further improved our understanding of the implementation and effectiveness of practices, schemes, and frameworks at AAK's countries of origin for rapeseed and sunflower.
We are using certification schemes to drive compliance. ISCC (EU/Plus) fully meets AAK's responsible sourcing criteria for rapeseed and sunflower and is aligned with the Sustainable Agricultural Initiative (SAI) Silver level.
Suppliers score cards were developed in 2021, in order to track progress and reward good practices. We will begin in Europe and further roll this out globally until 2025.
Contributes to the following Sustainable Development Goals (SDGs):