Coconut oil is a key raw material for AAK and a key source of income for thousands of smallholder farmers worldwide.
Our milestones and roadmap to 2025
Our milestones and roadmap to 2025 shows our progress in the journey towards sustainable coconut, as well as our ambitions still ahead.

Sustainability KPIs for coconut
Deeply understanding our supply base
Traceability is a key challenge in the coconut supply chain. At AAK, we buy crude and refined coconut oil and are therefore dependent on our suppliers to act in accordance with sustainable practices.
We hold our coconut suppliers responsible for traceability through our supplier score cards, a new initiative launched in 2020 and rolled out in 2021. The score cards will be vital to drive progress onwards. The score cards are aligned with the key aspects of the Sustainable Coconut Charter.
In 2022, we achieved 100 percent traceability to crushing plant and 15 percent traceability to municipality.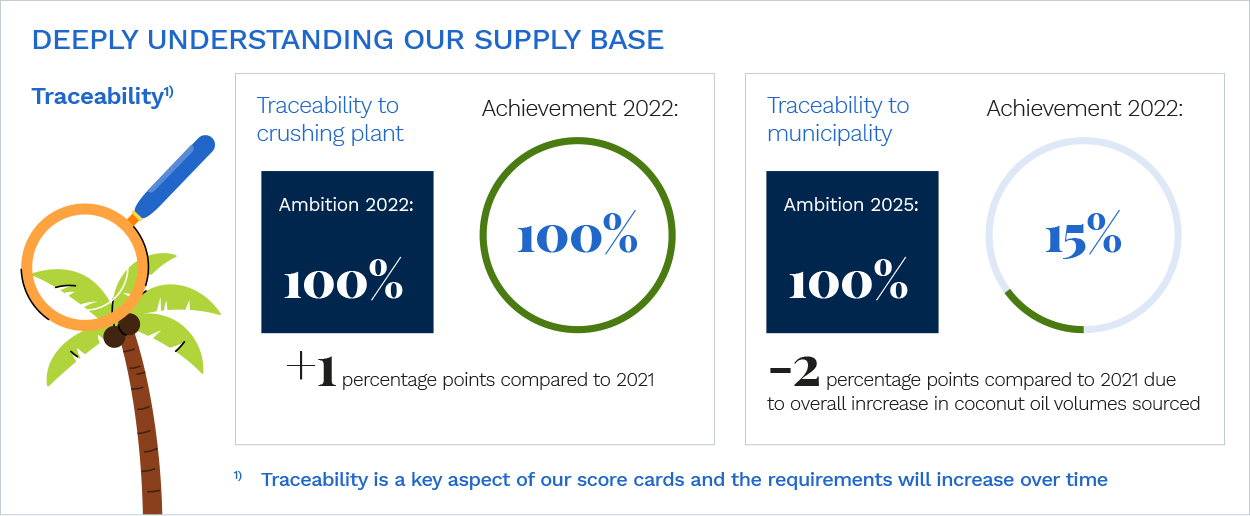 Engaging with suppliers and farmers
In 2022, we progressed our bilateral supplier engagement activities and have now engaged suppliers covering 100 percent of volumes (Including India and Latin America).
We remained the number of Rainforest Alliance-certified smallholders in our coconut supply chain. 150 farmers were certified in 2022.

Driving impact beyond our supply base
In November 2020, AAK joined the Sustainable Coconut Charter as a founding member, together with the United States Agency for International Development (USAID), Green Invest Asia, leaders from Barry Callebaut, Friesland Campina, Harmless Harvest Thailand, Jacobs Douwe Egberts, Nestlé, and Unilever. AAK encourages other supply chain partners to support the charter going forward.