Representing our work between January and June 2021, we are proud to share our continued sustainability progress within the shea supply chain. More than 345,000 women are now enrolled in our Kolo Nafaso program in West Africa. In addition, we have planted another 42,000 trees in the region, closing in on our ambition of 150,000 planted trees by the end of the 2024/2025 season.
AAK is one of the largest players in the shea industry and we are proud to set ambitions and drive progress that create positive impact for hundreds of thousands of smallholder women. Our approach to responsible sourcing of shea is a combination of proactive risk mitigation and our ability to influence the way of working to positively impact the livelihoods of the women and their families.
Working with a large supply base, we have chosen to address responsible sourcing in two different ways – via our Kolo Nafaso women's groups supply chain, and via our traditional supply chain.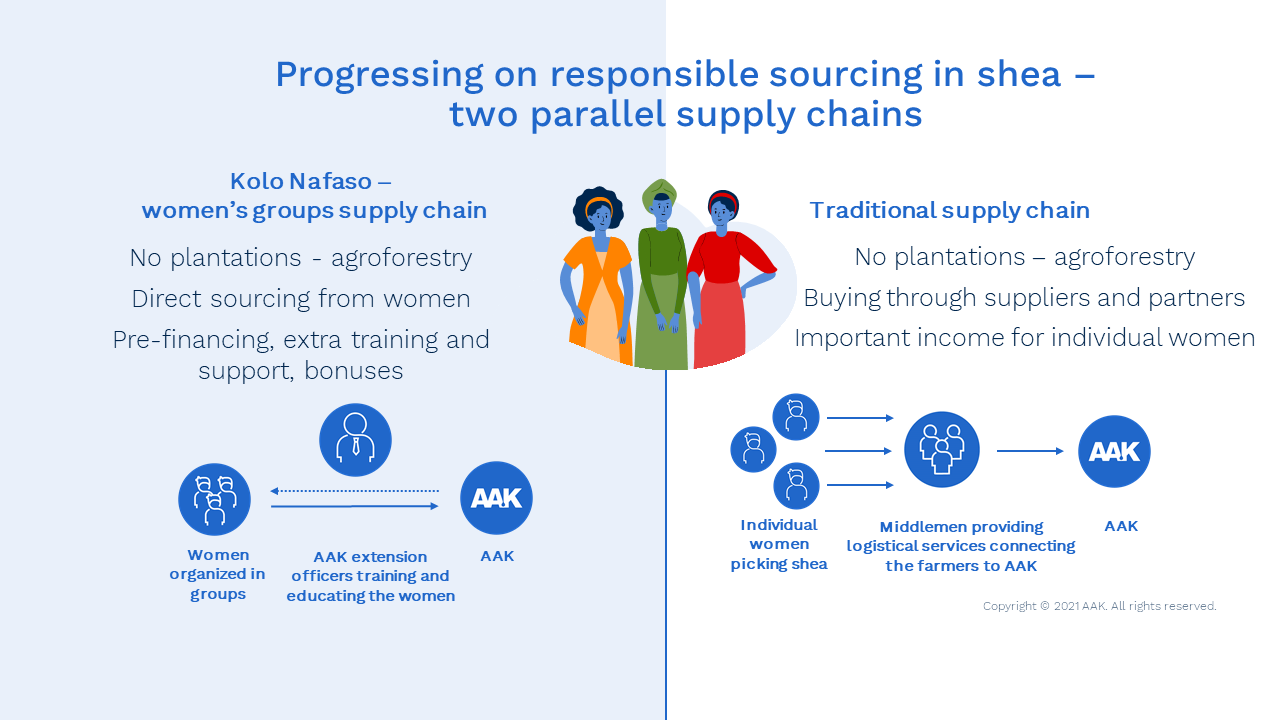 Kolo Nafaso – women's groups supply chain
During the 2020/2021 season (the shea season runs from July 1 until June 30), the focus for Kolo Nafaso has been to further strengthen its credibility and impact. The main developments over the past season have been:
100 percent traceability to program level achieved – fully verified by Proforest.
More than 345,000 women enrolled in Kolo Nafaso, an increase by 8 percent since July 2020.
98 percent of the women's groups have received training on how to maximize the impact of bonuses on community level, exceeding our annual ambition of training at least 95 percent of groups that receive a bonus.
Together with Saha Global, with whom we have a clean water partnership, we have opened our first water treatment unit in a Kolo Nafaso community in Ghana.
Our customer partnerships have enabled us to increase rocket stove trainings by more than 140 percent since last season. More than 17,000 women have now been trained in rocket stove construction since 2016.
After careful consideration, we have decided to put our Kolo Nafaso program in Nigeria on hold. The decision was taken after several violent incidents in Oyo State, an area in southwestern Nigeria where we have been operating.
Traditional supply chain
In the traditional supply chain, the main focus areas during the past season have been to strengthen supplier relationships, to maintain traceability, and to mitigate environmental risks. The main developments have been:
100 percent traceability to district level achieved.
ISCC certification achieved for 84 percent of the 2020/2021 traditional supply chain volumes, an improvement of 56 percentage points since last season.
78 percent of suppliers have completed the AAK supplier trainings, up 11 percent compared to last season.
Another 42,000 trees have been planted. In total, we have planted more than 78,000 trees since 2019 and are tracking at 52 percent of our overall ambition to plant 150,000 trees by the end of season 2024/2025.
Our most significant progress

Next steps
Going forward, we will focus even more on the impact we can have on rural livelihoods through our Kolo Nafaso program. In the traditional supply chain, we will continue to increase supplier trainings to strengthen both relationships and compliance to our sustainable sourcing requirements throughout the supply base.
We are very proud of our strong progress during the past season and look forward to the next. Our dedicated team will make sure to continue to drive relevant progress and make better happen in our supply chains.